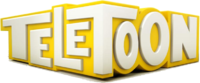 Teletoon
is a Canadian Category A specialty channel that broadcasts animated programming . The channel is owned by Teletoon Canada Inc., which is 50% owned by Corus Entertainment and 50% controlled by a blind trust (the interest previously owned by Astral Media). Astral's interest in Teletoon is among the properties Bell Media agreed to sell in order to complete its acquisition of Astral. Corus had already agreed to purchase Astral's interest in Teletoon (contingent on completion of the Bell-Astral transaction); this purchase is now pending separate Canadian Radio-television and Telecommunications Commission (CRTC) approval.
Its name is a portmanteau of television and cartoon and has no connection with the television channel in France of the same name. The network primarily airs various cartoon series, including both original and imported content (eg: Camp Lakebottom); its daytime programming is aimed at children and younger teenagers, while nighttime shows are targeted at older teenagers and adults between the ages of 18 and 34. Teletoon operates two timeshift feeds, running on Eastern and Pacific Time Zone schedules.
Ad blocker interference detected!
Wikia is a free-to-use site that makes money from advertising. We have a modified experience for viewers using ad blockers

Wikia is not accessible if you've made further modifications. Remove the custom ad blocker rule(s) and the page will load as expected.