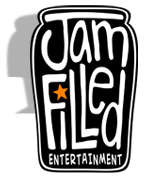 Jam Filled Entertainment was founded in 2007 and continues to produce creative high quality animated entertainment. The studio offers animation solutions through a digital pipeline using both Toonboom's Harmony and Adobe Flash CS5. With the senior team's combined experience and reputation (led by Phil Lafrance), Jam Filled provides excellent work that is done on time, on budget and above expectations.
Ad blocker interference detected!
Wikia is a free-to-use site that makes money from advertising. We have a modified experience for viewers using ad blockers

Wikia is not accessible if you've made further modifications. Remove the custom ad blocker rule(s) and the page will load as expected.