2016
March 2016
Featured Article: March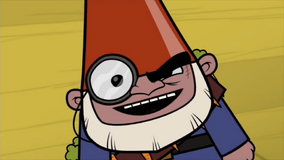 Papa Gnome is the leader of the Gnomes of Camp Lakebottom. He is tough and commands his army of Gnomes with little emotion except there safety. He can turn anyone into stone. He hates being called short.
February 2016
Featured Article: February
Scott McCord is a Canadian actor, voice actor, singer and bandleader for the soul/rock pop band, Scott McCord & The Bonafide Truth. He voiced McGee from Camp Lakebottom.
January 2016
Featured Article: January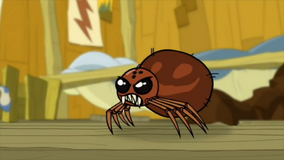 Webster is a baby spider that Squirt names. He loves Squirts but hates McGee. He will turn anyone into a spider silk cocoon hanged up by a spider thread. He covers the camp in Spider Web. He spits acid that can melt wood.
2015
December 2015
Featured Article: December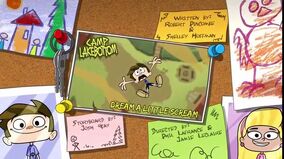 The Monsters tuck the Campers in to bed and warn them of the devious mosquito Dream Weevil. Taking the myth to heart McGee finds himself in a wild dream where he learns to overcome his fears and protect his friends from the Dream Weevil.
November 2015
Featured Article: November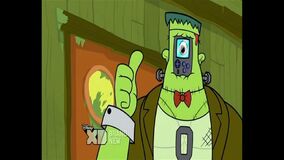 Frankie is a monster created by Sawyer, but completed by McGee, Gretchen and Squirt. He has the good brain of a M.C. but the evil brain of a bad pickle. Frankie was a creation of Sawyer. He has the brain of an M.C., a frog and a bad pickle. He was originally created to help Sawyer with his chores so he could spend time with McGee, Gretchen, and Squirt.
October 2015
Featured Article: October
Chipper lives on Screech Island. He has an insatiable appetite, and will hunt down and eat almost anything but he seems to prefer nuts and humans. Chipper looks like a regular chipmunk-a small rodent with buck teeth, tan fur with brown stripes. That is, until he goes completely berserk. When that happens his eyes turn yellow and bloodshot, his teeth become razor-sharp and his head expands disproportionately big enough to swallow a person. His tongue is also shown to be forked like a snake's.
September 2015
Featured Article: September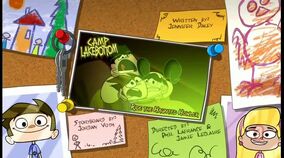 McGee worries that camp has raised his fear tolerance too high.
August 2015
Featured Article: August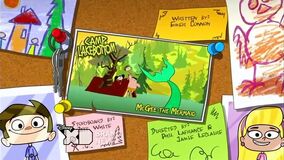 The kids accidentally resurrect an evil mermaid who floods the camp in her first step toward world domination.
July 2015
Featured Article: July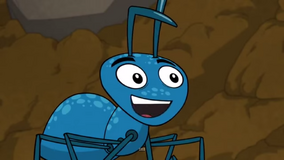 Bert is a blue ant. He helped McGee, Gretchen and Squirt get back to normal size in Ants in My Camp. He later returned as a minor character in Buttastic Journey.
June 2015
Featured Article: June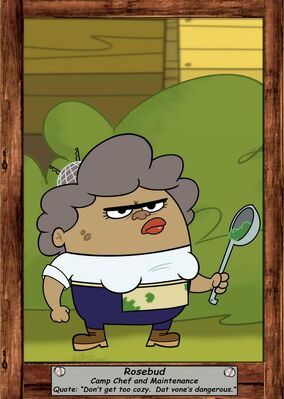 You never know what you are going to be eating at Camp Lakebottom with Rosebud on the job. She's a strong German-French cook, who gives you whatever she can manage to trap for dinner. Yes; that's right, French flies anyone? Have a spider friend? Don't invite him over, or he might just become the main course. She means business when it comes to food and her kids. She is unwavering and unbending when it comes to the rules of her kitchen, so don't mess with her!
May 2015
April 2015
Featured Article: April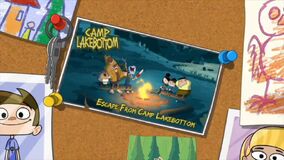 McGee, Gretchen and Squirt arrive at Camp Lakebottom to find themselves held captive by a hungry zombie, a raging Sasquatch and a ruthless chef.
March 2015
Featured Article: March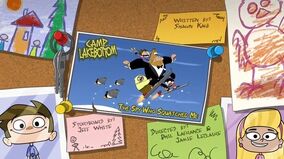 The Bottom Dwellers discover that Armand was once a secret agent when they visit his old hideaway at the top of a mountain. His old nemesis comes back to face him one last time in a battle of wits and dance moves.
February 2015
Featured Article: February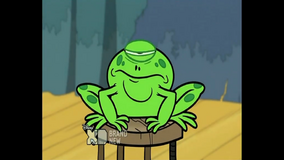 Kevin the frog is a professional actor that beat out the role of Bull Frog. So far it has only made one appearance in "Stage Fright". He has one loyal fan by the name of Buttsquat.
January 2015
Featured Article: January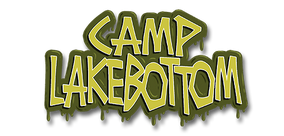 "Camp Lakebottom" is a Canadian animated series produced by 9 Story Entertainment that first aired on Teletoon starting July 4, 2013. It is also scheduled to air in the United States on Disney XD starting July 13, 2013, Title Narrtor by Charile Skanker.
2014
December 2014
Featured Article: December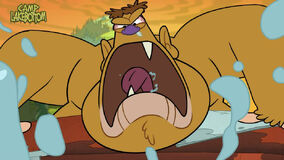 Armand is the dramatic, over-the-top sasquatch counselors of Camp Lakebottom. He is larger than life, and a master of self expression. He would much rather dance, paint pictures, sing, or write poems than simply share his feelings. He also has a flatulent habit whenever he gets nervous.
November 2014
Featured Article: November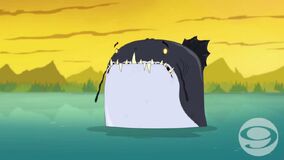 Toothy is the largest fish in Lake Icky Gloomy, Toothy is shown to be extremely vengeful. He was furious at Buttsquat for stealing one of his teeth and never stopped looking for his missing tooth. Toothy appears as a hybrid of a whale, a catfish and a shark. It has a very large body with a gigantic mouth and sharp teeth and a disproportionately small tail and fins. He also has a fin on his back and catfish-like whiskers.
October 2014
Featured Article: October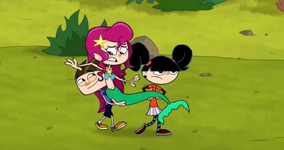 Esmeralda is an evil mermaid who used to live in Lake Ickybottom. She made her first appearance in the episode McGee the Mermaid.Esmeralda has long pink hair with a yellow starfish, a blue conch-shell bra and a necklace made of gold. She also has a long, green fish-like fin and freckles on her face. Since she is an evil mermaid, she has hasty attitude. When she tries to make people help her, she pretends to be a good mermaid.
September 2014
Featured Article: September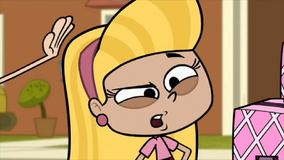 Suzi is McGee's, high-strung, manipulative, annoying older sister. Small in body with a giant personality to say the least. She is spending her summer at Camp Sunny Smiles, with the "cool" kids away from her baby brother. Sunny Smiles is sparkling new, and has all the trendiest amenities you could think of. Being the ultimate girly girl pageant winner, the best way to get her attention is to talk about, well, her!
August 2014
Featured Article: August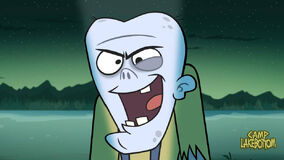 Sawyer is a loveable zombie who is just misunderstood. Just because he's a zombie, doesn't mean he can't be fun and a caring guy. In fact, Sawyer is the grandpa figure among the councilors of sorts. Always a thoughtful, and wise guide to the mishaps the kids encounter. He may lose a limb from time to time, but he's always there to lend a helping hand. Literally. Just don't let him bite you. He's sworn off brains but anything could happen.
July 2014
Featured Article: July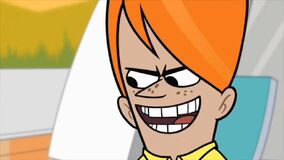 Jordan Buttsquat is the arch nemesis of McGee, if there ever was one. He is a snooty, outright, dishonest, up-scale snob, out to get McGee and his revenge. He is also King Supreme at Camp Sunny Smiles as being the son of the owner. It lays right across across the lake from the 'Bottom Dwellers'.
June 2014
Featured Article: June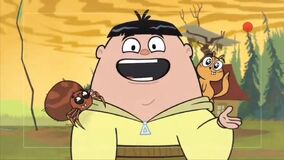 He and McGee seem to be inseparable. He also has a knack of making friends with monstrous animals, and with their help manages to get himself and his friends out of scrapes time and time again. He is also very intelligent. He cares deeply for any animal, quickly adopting them, even though they are not or ever should be house pets. You could even say: with his childlike curiosity, he is the innocence and heart of the Bottom Dwellers group.
May 2014
Featured Article: May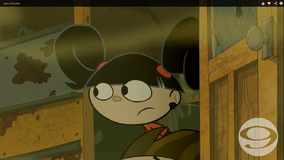 Gretchen is everything but sugary sweet. She's a girl with a side of Kung-Fu to boot. She is the steady center of the group, most times the voice of reason. When things get a little scary, she can be counted on for her expert fighting skills and getting the gang out of sticky situations. Though this tough girl isn't without her hang ups.
April 2014
Featured Article: April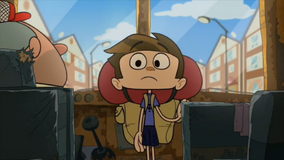 How do you describe such coolness? For starters, nothing is going to stop McGee from having the ultimate summer this year. He's your typical, yet resourceful easy going, life-is-a-sundae-with-a-cherry-on-top kind of kid; blessed with an uncanny level of self confidence, constantly on the search for fun, and completely void of the "planning ahead" gene.