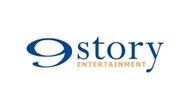 9 Story Entertainment was founded in September 2002 by Vince Commisso and Steven Jarosz. 9 Story Entertainment is one of the industry's leading creators, producers and distributors of award-winning animated and live action content for young audiences. With an animation studio in Toronto, 9 Story has over 200 creative and production staff, and has produced children's and family programming (eg: Camp Lakebottom), seen on most children's channels and platforms around the world. The company's distribution arm, 9 Story Enterprises (formerly named 9 Story Distribution), launched in September 2006, offers a catalogue which includes several brands such as Peep and the Big Wide World, Max and Ruby, Wibbly Pig, Harriet the Spy: Blog Wars, Wild Kratts, Almost Naked Animals, Scan2Go, Arthur and Johnny Test. Some of their shows include the primetime animated comedy Fugget About It and Futz!
Ad blocker interference detected!
Wikia is a free-to-use site that makes money from advertising. We have a modified experience for viewers using ad blockers

Wikia is not accessible if you've made further modifications. Remove the custom ad blocker rule(s) and the page will load as expected.